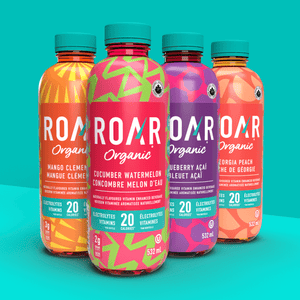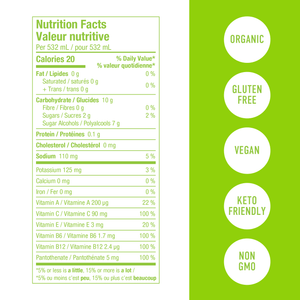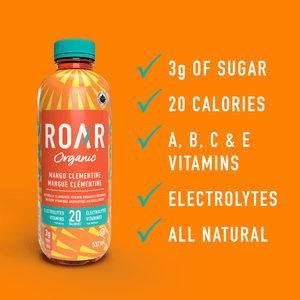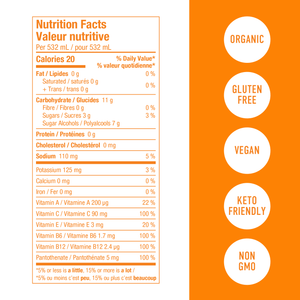 4 FLAVOUR VARIETY PACK
Includes 4 great flavours: Cucumber Watermelon, Georgia Peach, Blueberry Açaí and Mango Clementine.
Every day, you put in the work to be your best self.  So, ROAR Organic meets you where you are and we exist to work just as hard as you do to get you through your everyday life.  ROAR Organic is packed with electrolytes, Vitamins, & antioxidants to provide hydration that is functional, effortless, natural and above all else: enjoyable. This low-calorie hydration drink is all-natural, caffeine free, and has less than 3g of organic cane sugar per bottle.  Each bottle of ROAR Organic is made with a natural coconut water electrolyte blend for faster hydration and refreshing recovery. Plus packed full of B-vitamins which helps support metabolism and contribute to the body's ability to produce energy, while dietary antioxidant vitamins A, C and E protect the body from oxidation and decrease the adverse effects of free radicals.
For shipping details, visit the shipping page here.
Product Features
Infused with natural electrolytes
Source of vitamins A, B-5, B-6, B-12, C and E
Dietary source of antioxidants
Naturally Sweetened with Organic Cane Sugar and Erythritol
USDA Organic and Non-GMO
Gluten-Free
Vegan friendly
Soy Free
100% recyclable, BPA free packaging
Reviews
BENEFITS OF ROAR ORGANIC BEVERAGES
3g of sugar or less
Only 3g of sugar and all that flavour? Sounds like a sweet deal!
b-vitamins
Packed with B-Vitamins that help convert protein, carbohydrates, and fats into energy.
Antioxidants
Dietary antioxidant Vitamins A, C and E protect the body from oxidation and decrease the adverse effects of free radicals.
organic
Naturally perfect, just like you. All our beverages are Certified USDA and Canada Organic.
electrolytes
Electrolytes from sea salt and organic coconut water keeps you hydrated and your body in balance.
20 calories
The calories are low, but the hydration is at an all-time high.